Parishes

Umeda Catholic Church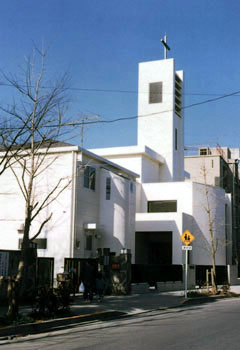 Name
Umeda Catholic Church
Dedicated to
St. Joseph the Worker
Date of Establishment
1987
Parish Priest
Gianluca Belotti, P.I.M.E.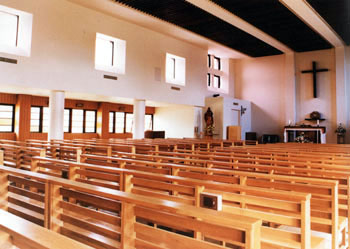 Number of Parishioners
287 (as of Dec.31,2019 ※English speaking parishioner excluded.)
Sunday Mass
Sun. 9:30 (Japanese) / 14:00 (English)
Weekday Mass
Temporally suspending due to the situation
Sunday School
Sun 10:00 (starts at Kid's room before mass) Japanese / 14:00˜(English) at Kid's Room
Bible & Catechetical Study
Fri.10:00~12:00 Japanese, Sat 19:30-21:30 Japanese Monthly English Catechism is available. Please ask UIC group leaders for details.
Activity
Support for the Sisters' of Adorers humanitarian assistance at Lima in Peru by the sales of coffee after Sunday Mass. Selling the pound cakes for assisting the Iraqi and Syrian refugees, the Chaldean Catholic in Jordan. AA and NA groups have weekly meeting.
Address
7-19-22 Umeda, Adachi-ku, Tokyo 123-0851
Telephone
03-3880-4718
Fax
03-3880-2021
Website
http://www.adachi.ne.jp/users/joseph/josephumeda/Welcome.html
Email
Facilities for the Handicapped
Slope (or Barrier free), Elevator, Toilet
Directions
5 minutes walk from Umejima Station on Tobu Isezaki Line. Parking is not available. GoogleMap
Parish History
History
During 1964-65, a land of 1610.4 sqm was purchased from the Tokyo Electric Power Company. In 1965, the "Umeda Kodomono Ie"(Kindergarden), of Jochi Educational Foundation started with the expense fully covered with funds contributed by the Köln Archidiocese of Germany. Fr. Peter Heidrich, S.J. had played a most active part in this undertaking. Sunday Mass started at the hall of this kindergarden. A proposal submitted to Archbishop Shirayanagi to build Umeda Catholic Church on the property was approved. In1986 a discussion was held on which district the Umeda Catholic Church should take charge of as the sub-Parish of Adachi Parish. In 1987,our new parish was dedicated by the Holy Mass celebrated by Archbishop of Tokyo, For this new construction many priests and lay people made their best efforts. The first chaplain was Fr. Iwao Tsukamoto (87-90) followed by Fr. Kinji Kawamura (1990-00), Fr. Masanori Koga(2001-02), Fr. Mitsuo Seki (2002-06) and Fr. Hiroyuki Arakawa (2006- ).
Environment
Catholic Umeda parish is located along the Nikkou Road 10 Km away from Nihon Bashi, center of Adachi Ward and 5 minutes walk from Umejima station, the third stop from Kitasenju on Hibiya Subway Line. By car it is very close to Senju Shinbashi Exit on Metropolitan loop superhighway No.2. This parish is very unique for its diversed ethnicity, such as, Philippine, Korean, Chinese, Vietnamese, Burmese, Colombian, Nigerian, Madagascan and so on. Around 400 non-Japanese visit to English mass every Sunday. Every Sunday we have English Mass from14:00 with large attendance of migrant workers and their children. They are Philippino who came to Tokyo early 90's, raising up their 2nd generation now. This parish in downtown is loved by working in a local factory, night clubs, hard working construction places, like Brooklyn in New York City.Due to the past situation, undocumented people left this country in a flash, so that remaining people are legally stable on the one hand, but other have difficulties of adopting process of 2nd generation. They are elementary and high school students whose parents are Japanese & foreigner, so called a family of The children, who help their parents to translate their conversation, have complex troubles as multi cultural kids under "homogenious" Japanese society. With CTIC, we launched off WORKSHOP FOR KIDS, a program to build up their identity. risk management with classmate, and knowledge of job skill. In detail, please visit to our parish website. Adachi Ward is famous for its large supply of working class so that the project housing is very popular. Mentally and psychologically troubled people are often seen, with a lot of psychiatric clinics in a highest number in Tokyo area.
Current Situation
We do not have a specific youth group in Japanese mass, but their attendance is increasing recently without any reason. Japanese group is Church so far. On the other hand chapel has been crowded with many young mothers and their babies at the English mass. There is no Women's group nor Men's group of Japanese mass community since working class people do not have time for activities in the Church. But on the time of special Church event people make out on a small community by supporting each other naturally. English mass community has grown up to reach out in and out activities. They can organize seminar for baptism and preparation of baptismal ceremony by themselves. They have participated into International Day of Tokyo Archdiocese and CTIC concert. After the mass coffee has been served for more than 100 yen at the Church hall to support Sister Kawamata's ( Sisters of Adorers) project who has engaged in humanitarian mission in Peru. According to her report during her short home-coming her project has been successful by this support. Toward outside group the Church is open to facilitate the place for MAC bazaar once a month.
We are expecting your visit to our parish either 10:00 mass in Japanese, or 14:00 in English.