Archdiocese of Tokyo

Cathedral
St. Mary's Cathedral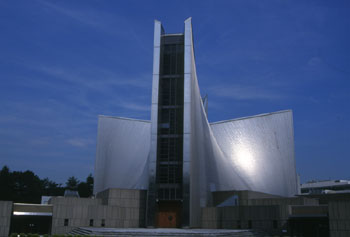 The structure of eight curved walls which are almost perpendicular form one big cross. The brightness of the stainless supports at the outside symbolizes the light that Christ makes shine upon the world and in the hearts of men.
The hard walls of pre-cast concrete evoke the words of the Bible: "The Lord is my rock and my bastion, my deliverer is my God." (Ps.18,2) They show how God is the pillar and the foundation for all men.
The whole scene brings the image of hands outstretched in invitation to all men. "Come to me, all you who labor and are overburdened, and I will give you rest. " (Mt.11,28)
Architect: Tange Kenzo, City Construction and Planning Research Center
Structure: Tsuboi Research Center, University of Tokyo
Construction: Taisei Construction Company
Acoustics: Taisei Construction Company, Acoustics Section
Building Period: April 1963 – December 1964 (18 months)
Area: 15,098㎡
Structure: Steel Concrete HP shell
Floors: Basement, 1st Floor, (2nd and 3rd Floor for the Organ)
Height from Ground Level: 39m419
Surface Area: 3,649.9㎡
Length: 55.5m, Width:40.7m
Basement Surface: 1,005.5㎡
1st Floor Surface: 2,541.4㎡ 
2nd Floor: 71.0㎡ 3rd Floor: 32.0㎡
Outside: Stainless Steel and Aluminum Frames
SEATS
Cathedral 1st Floor: 600 seats, 2,000 standing
Basement Chapel: 200 seats, 100 standing
History of St. Mary's Cathedral
Until 1945, when it was destroyed by fire caused by the air attack, Tokyo Cathedral was a wooden gothic style church.
It was built in 1899 by the students as the Chapel of the French Missionaries Seminary, and in 1900 became the church of Sekiguchi parish. In 1920 became the Cathedral Church of the Archbishop of Tokyo.
In the beginning it had a tatami floor, but in the late twenties the center was filled by chairs. At that time people used to take off their shoes entering the church.
In 1911 the grotto of Lourdes was built by French Missionary, Fr. Demanger.
Having being destroyed completely during World War II, the church has to be rebuilt, and the Diocese of Koln (Germany) gave its help for the reconstruction. The planning by Architect Tange Kenzo started in 1960, and the new Cathedral was inaugurated in December 1964. 8 hyperbolic faces almost vertical, make up a big structure in the shape of a cross. It became famous to the world as a unique church construction, and among the visitors, many comes from abroad. It is 39.4 meters tall and made with steel concrete covered by stainless steel.
Schedule of the Mass
Sekiguchi Parish:
WebSite: http://cathedral-sekiguchi.jp/ 
03-3945-0126 (All Masses are in Japanese)
Saturday  18:00
Sunday 8:00, 10:00, 12:00 (At Basement Chapel)
Monday to Saturday: 7:00 (At Small Chapel besides the Sacristy)
Korean Community:
WebSite: http://www.tokyo-koreancatholic.org/ 
03-3941-0929 (In Korean)
Sunday 12:00
Tuesday to Saturday 10:00
Tue. & Fri. & 2nd,3rd,4th Sat. (At Basement Chapel)
Wed. & Thu. (At Small Chapel)