Parishes

Tsukiji Catholic Church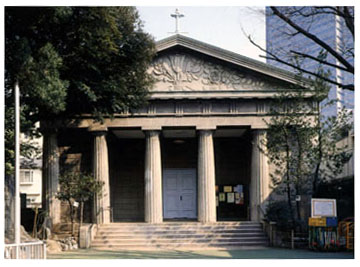 Name
Tsukiji Catholic Church
Dedicated to
St. Joseph
Date of Establishment
November 22, 1874
Parish Priest
Leo Shumacher, S.S.C.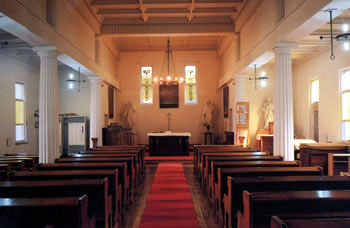 Number of Parishioners
473  (as of Dec.31,2019)
Sunday Mass
Saturday: 6:00 pm
Sunday: 9:30 am
Weekday Mass
First Friday: 10:00 am
Sunday School
Sat. 15:00˜17:00 (for Elementary & Junior High School)
Bible Study
For the Introductory Course (Tue.) at 19:00 Bible Study Course (Fri,) at 10:30 am
Address
5-26 Akashi-cho, Chuo-ku, Tokyo 104-0044
Telephone
03-3541-8185
Fax
03-5565-4315
Website
http://tsukijicatholic.jp/Tsukiji-church-e-index.htm
Directions
8 minutes walk from Tsukiji Stn on Hibiya Subway Line (Hachobori side exit). Or 7 minutes walk from Shintomicho Stn on Yurakucho Subway Line (exit No.6). Or take the bus headed for Fukagawa Shako from South Gate of JR Tokyo Stn to Akashi-cho stop, 5 minutes on foot from the stop. GoogleMap
Parish History
Tsukiji Church History
In 1847, Paris Foreign Mission Society rented a part of the Concession from Tokyo City and built a temporary church. In 1875 Sisters of the Infant Jesus also rented a site near at the place of Kuritsu Daini Chuu Senior High School to open the girls' high school which was named later Futaba Gakuen.
Chorological Table
1876:Mgr. Pierre Marie Osouf.was appointed as Ordinary of North Japan Diocese and the Tukiji 
Catholic Church was appointed as Cathedral.
1878:New brick real chapel was built as the center of Catholic Churches in Tokyo nominally and virtually. 
1891: Archdiocese of Tokyo has been establish and Tsukiji Church become the Cathedral.
1920:The Cathedral has been moved to Sekiguchi Church.
1923:In September the chapel and parsonage and other church building have been destroyed by Kanto Great Earthquake. In December the temporary chapel was built at the ruin.
1924:In April St. Joseph Kindergarten has been opened and nursing class has been started by using the temporary chapel
1927: In April the present wooden mortar plastered church building has been built in Greek style.
1999: On the 1st of June the church has been chosen as one of the historical buildings of Tokyo.
2007:On the 31st of March the St. Joseph Kindergarten has been closed after 83 years' educational mission for pre-school children.
History of Christianity
The Edict Forbidding Christianity
The Shogunate Toyotomi Hideyoshi issued the edict forbidding Christianity and the Shogunate Tokugawa Ieyasu reinforced to prohibit Christianity. The 3rd Shogunate Tokugawa Iemitsu enforced the low of the national Isolation policy. It had been a very cruel and hardships period to all the Christians and churches in Japan. During the 300 years so many Christians had shed their precious blood to testify their faith in Christ and exiled from Japan to East Asian countries. It was eventually Commodore Perry in 1853 and again in 1854 who forced the Tokugawa government to open a limited number of ports for international trade and The Japan-U.S.A. Commercial Treaty has been enacted. Then Holland, England, France, and Russia have followed the same with Japan. According to these change foreigners had lived in Japan and Churches for their religion also have established again.
Opening Japanes country to foreign intercourse
In 1862 the first Catholic Church has been built in Yokohama after opening of the country. Tokyo had delayed to permit foreign residents on some pretext or other and in 1869 allowed them to built foreign residence at last. The area of present Akashi-Cho was given for them. In Autumn of 1871 Fr. Marie Jean-Marie and Fr. Midon Felix of Paris Foreign Missionaries who had been dispatched from Yokohama had arrived in Tokyo and they had started their mission work. Though Japan had opened the country the notice boards of The Edict Forbidding Christianity were still hanged in Tokyo. We could imagine the strong passion of the two missionaries at that time. This Mission of Catholic Church had been started ahead of Russian Orthodox Church and Anglican Church
Temporary Church in a rented house
The missionaries had rented a house of merchant at Inaribashi as their temporary church. The people who visited the church were students from local prefectures and most of them were youth in these time. In 1872 they had opened the Latin Seminary at Chiyoda-Ku Sanbancho and about 70 students were admitted there. Then Fr. Marie Jean-Marie had decided to establish a church inside the foreign residence to promote their evangelical mission and to move from the rented house.
The dedication of the new Church and Cathedral Church.
On the 22nd of November in 1874, the last Sunday after Pentecost, the new chapel of Tsukiji Church had been consecrated and dedicated with the St. Joseph as the patron Saint of the Tsukiji Church. It was only 3 years after the starting mission work at this church. In 1875 the Sisters of Saint Maur had been invited from Yokohama who had started the mission school there. Through the operation of church facilities, elementary school and orphanage evangelical work had been started its strong steps. In 1877 the cathedral had been built in the Tsukiji church and Bishop Mgr. Pierre Marie Osouf. had been arrived and then the strategic base of mission had been established.
The Cathedral had been moved to Sekiguchi Church.
In 1920, the Tokyo Cathedra of Archdiocese of Tokyo has moved to Sekiguchi Church yard from Tsukiji and new era had been come.