Parishes

Toshima Catholic Church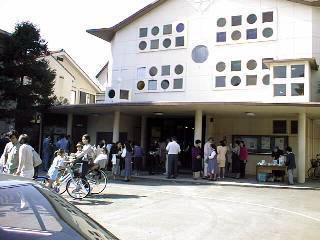 Name
Toshima Catholic Church
Dedicated to
St. Patrick
Date of Establishment
April, 1949
Parish Priest
Francis As. Takahiro  Tanaka
Cooperative Priest
John Joseph Puthenkalam, S.J.
Number of Parishioners
1,040 (as of Dec.31,2019)
Sunday Mass
7:00 am  (in Japanese) / 9:30 am  (in Japanese) / 12:00 pm (in English)
Weekday Mass
7:30 am (in Japanese)
Church School
Sunday  11:30 ~ 12:00 am
Bible Study
Tue.19:00-20:30 Thu.9:30-11:15 Please ask for information regarding beginners course.
Welfare service
Ippo no Kai (Party of One Step) The distribution of foods is held in Ikebukuro every last Friday of the month, from 4:00 pm Representative: Mrs. Takane Toyama 
Address
1-28-22 Nagasaki, Toshima-ku, Tokyo 171-0051
Telephone
03-3957-2540
Fax
03-3957-2081
Website
Facilities for the Handicapped
Slope (or Barrier free), Toilet
Directions
5 minutes walk from Shinamachi Sta. on Seibu Ikebukuro Line. 5 minutes walk from Kanamecho Sta. on Yurakucho Subway Line.  GoogleMap
Parish History
History
In 1948, the Columban Missionary had obtained the present site. In 1949, the Church was dedicated to St. Patrick as the patron Saint and Toshima division became a Parish of Archdiocese of Tokyo. The first chaplain was Fr. James Doyle S.S.C. and Fr. Luke Kinzo Arai was the deacon.
Current Status
Toshima church is located along Yamate Dori, 5 minutes walk from Seibu Ikebukuro Line Shiinamachi Station & Eidan Subway Yurakucho Line Kanamaecho Station.
At present, the chief priest is Father Takahiro Tanaka, the 17th priest assigned. As a cooperation Catholic priest Society of Jesus, Father John Joseph Puthenkalam, a Jesuit priest, celebrate English mass every Sunday. It has been performed in the church where English mass is given to every Sunday since the time of Father Cyril Murphy in 1990. Foreigners from 20 countries are coming to join the mass. In the parish there are four sister convents, they are the Franciscan Missionary of Mary, of St. Mary's Hospital, Maison Provinciale des Soeurs de l' Enfant-Jesus, Congregation of Sisters of Presentation of Mary, and Petites soeurs de l'Evangile Fraternité. In addition, there is St. Patrick's Kindergarten in the site of the church.