Parishes

Takanawa Catholic Church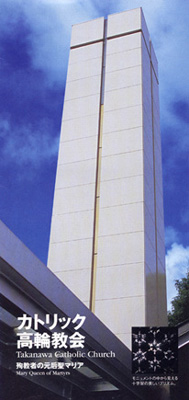 Name
Takanawa Catholic Church
Dedicated to
Our Lady Queen of Martyrs
Date of Establishment
November 22, 1959
Parish Priest
Maria Francisco Satoshi  Akaiwa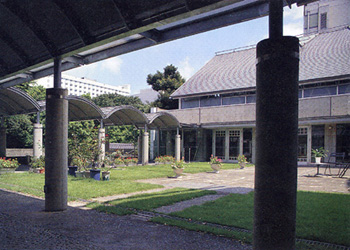 Number of Parishioners
1,820  (as of Dec.31,2019)
Sunday Mass
Saturday: 6:30 pm (in Japanese)
Sunday: 8:00 am (in Japanese) / 10:00 am (in Japanese)
4th Sunday: 1:00 pm (in English: EL Shaddai Mass)
Weekday Mass
 7:30 am (in Japanese)
Sunday School
"Sunday School" Sun.9:45 (For the 3 years old – Elementary School 6th years)
Middle and High School Student Meeting
Bible Study
Introduction class: Thu.19:00 Sun.11:15 "Bible Study": Thu.10:30
Volunteer Activity
Yu no Kai / Visit detention centers,Volunteer group for tohoku disaster relief. There are more volunteer groups (Please refer to the website of Takanawa Church.). Holding bazaars for supporting the other groups and organizations in need .
Activity
Please refer to the website of Takanawa Church.
Address
4-7-1 Takanawa, Minato-ku, Tokyo 108-0074
Telephone
03-3441-5556
Fax
03-3441-5545
Website
http://www.crypttakanawa.com/ (Crypt Takanawa)
Facilities for the Handicapped
Slope (or Barrier free), Toilet
Directions
6 minutes walk from Shinagawa Sta. on JR and Keihin Lines. Or 5 minutes walk from Takanawadai Sta. on Asakusa Subway Line. Parking space for 19 vehicles. GoogleMap
Parish History
History
In 1948, the Scarboro Foreign Mission Society started missionary activities in this area. In 1959, the former wooden church had been completed and dedicated by Archbishop Peter .Tatsuo Doi on 22nd of November. The Church had been named as Our Lady Queen of Martyrs because the place of Edo Great Christian Martyrs is near to the Church. In 1989 the new chapel has been completed and the dedication ceremony Mass has been offered on 19th of March. In 1997 the tower of large Cross has been completed to admire the Edo Martyrs Archbishop Peter Seiichi Shirayanagi has blessed it. Takanawa Church has been formed by the evangelical mission of Scarboro Foreign Mission Society from Canada who had started evangelic mission after the World War II. The wooden Chapel has been built in 1959 and loved by people as Japanese style Church fitting to Japanese row of stores and houses on the street. In 1979 the Church has been transferred to Archdiocese of Tokyo and the Church has been growing as the faith community of about 1,700 parishioners. Old parishioners who has been with the Church from the early time .have thie special attachment but they can not go against the decrepitude old building. In 1989 the present Church has been built .The design was modern and made much of well lighted. The crypt is at the basement. In 1997 the Cross monument in which the beautiful prism by natural light can be seen has been completed.
Present Situation
At present there are several activities and study groups like Sunday school for kindergarten and elementary school children, activity group of high school students, bazaar, visiting prisoners.Friendship exchange with foreigners is also active as the nature of the place in Tokyo. This Church is near to the Fudanotsuji where large Christian massacre by Shogunate Iemitsu Tokugawa had been executed and so Our Lady Queen of Martyrs is our patron Saint. In November the memorial Mass of the Church has been celebrated every year.