Parishes

Takahata Catholic Church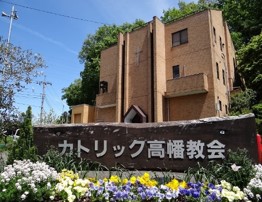 Name
Catholic Takahata Church
Dedicated to
St. Mary Queen of May
Date of Establishment
September 1, 1969
 Parish Priest
Jorge Manuel Macias Ramires
Number of Parishioners
855 (as of Dec.31,2019)
Sunday Mass
10 am
Weekday Mass
Fridays 10 am
Sunday School
Please contact us.
Bible Study
Please contact us.
Volunteer Activities
Please refer to the website.
Address
14-7-14 Hodokubo, Hino-shi, Tokyo 191-0042
Telephone
042-592-2463
Fax
042-592-2464
Website
Facilities for the Handicapped
Elevator, Slope, Toilet and Parking spaces for the handicapped
Directions
Take bus for Chuo University (or for Tama Center) from JR Toyoda Station to Kami-Hodokubo stop. 2 minutes walk from the stop. Or take bus for Tamatech from Takahata-Fudo Stn (Keio Line) to Kami-Hodokubo stop. 2 minutes walk from the stop. 10 minutes walk from Tama-Dobutsu-Koen Stn on Keio Line. Parking available GoogleMap
Parish History
History
The Catholic Takahata Church is located in the western suburbs of Tokyo, and there are many universities, junior colleges, and vocational schools nearby, and it is a church blessed with greenery. The cathedral was dedicated on December 5, 1982, to the site of the church, courtesy of the Belize Merces Mission Nun. There is also a monastery, prayer house, and Koen Kindergarten on site, as well as a lush back mountain where boy and girl scouts are active.
Current status
In May, the "Satsuki Festival" is held to celebrate the Church's patron saint, St. Mary, and is a fun opportunity to interact with local residents, other churches and kindergarten parents. The Sunday Mass is held every Saturday and Sunday, but many people attend the Christmas and Easter Mass. It is full of homely atmosphere, such as talking in a cafe after Sunday Mass. Taking advantage of the quiet and nature-rich environment, Lourdes was created in the spring of 2010 and is popular as a place of prayer. Every February, two sister churches in nearby Protestants hold a "sister church exchange worship" to share their religions. In 2017, the long-awaited elevator was completed, and barrier-free access has progressed.
Present Situation
The parishioners of the church carry their role voluntary according to their capacity in the church organization, seek deeper spiritual life by mutual support and continue to pray in action to grow.
Activities
Church schools and junior high school students are working together as a place where young leaders and adult supporters can work together to cultivate their religion in a fun way. Every summer, summer camps are held with friends in the grace of God in nature. Boy Scouts (Hino 2nd Corps) and Girl Scouts (Tokyo 77th Corps) have been involved in the church since its foundation. The main activity groups of the church include a post-Mass café (settlement support group = CTIC support), quilt ketting for Indian monasteries (dandelion society), Osaka Kamagasaki support (Acacia society), people with illness Prayer for Lourdes (Lourdes meeting), Fukushima Yasai field cheering party, etc. In addition, a reading party and a movie appreciation party are also held, providing a good exchange opportunity.