Parishes

Shibuya Catholic Church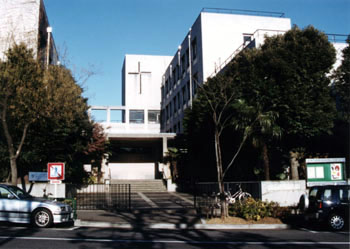 Name
Shibuya Catholic Church
Dedicated to
St. Dominic
Date of Establishment
November 22, 1960
Parish Priest
Jean Nobuaki Tanaka, O.P.
Number of Parishioners
1,024 (as of Dec.31,2019)
Sunday Mass (All in Japanese)
8:00 am / 10:00 am (1st and 3rd 10:00 am Mass with Sign Language)
Weekday Mass
Tuesday And Friday: 7:30 am (in  side chapel)
First Friday: 11:00 am (in  side chapel)
Sunday School
For Elementary school children "Kohitsuji-Kai" Sun.9:00˜
For Middle & High school student. "Juvenile Group" Sun.10:00˜
For Infants "Kousagi-Kai" Taking care of preschool children during the Mass from 10:00.
Catholic Scouts Boy Scouts "Shibuya Troop No.5" & Girl Scouts "Tokyo Troop No.87&No.187"
Bible Study
"Introduction"(Please ask the church office for details.) Sun.11:20˜12:20 Sr.Tsuruta
Volunteer Activity
Sign Language Circle: Sing Language translation during the Mass and study meeting after the Mass on 1st and 3rd Sunday 11:30˜. Supporting activity for overseas aid and help at the tea room of the St. John Aged Home. Mini bazar a year and offer the space for other social workers' groups to sell their goods too.
Address
18-13 Nanpeidai-cho, Shibuya-ku, Tokyo 150-0036
Telephone
03-3463-5881
Fax
03-3463-3749
Website
http://www.catholic-shibuya-church.net/
Facilities for the Handicapped
Elevator
Directions
12 minutes walk from Shibuya Sta. on JR Line and other subway lines. 10 minutes walk from Shinsen Sta. on Keio Inogashira Line. Take Tokyu Transport Bus headed for Daikanyama from Shibuya Sta. to Italy-ya Honsha stop (2 minutes walk from the stop). Or take Tokyu Bus from Shibuya Stn to Dogenzaka-ue stop (3 minutes walk from the stop). GoogleMap
Parish History
History
In February,1949, missionaries from Canada Provincial Dominicans founded Ikejiri Catholic Church and St. Imelda Kindergarten was established beside the church. In 1956, a church site was purchased inside the Lord. Muneaki Date's official residence in Manpeidai, Shibuya. On Christmas Day in December 1959 the first Mass has been served at midnight at the Shibuya Catholic Church. In 1960, Shibuya Church has become a Parish and the church was dedicated to St. Dominic. In 1963 the stained glass has been completed and have it fixed up in the chapel. In 1965 underground hall has been completed and in 1970 the small chapel has been completed. In 1978 50th years anniversary and celebration party have been held to commemorate the arrival of Dominicans from Canada, Province in Japan. In 1995 35th anniversary of the chapel dedication has been held. The Church has both aspects, traditional and also open mind with free atmosphere to each others. People from children to seniors come together in varieties. Priests are Canadian, Polish , Spanish and Japanese which have rich international faces. Some priest is active and famous in the wide field of art to create stained glass and painting.
Present Situation
Catholic Shibuya Church has been run by Dominican Order and located at Nanpeidai Cho in Shibuya facing the Old Yamate Street. The Sunday Mass is at 8:00 am,10:00am and 18:00 in three times. On the second Sunday the folk mass has been served at 10:00am with children.