Parishes

Setagaya Catholic Church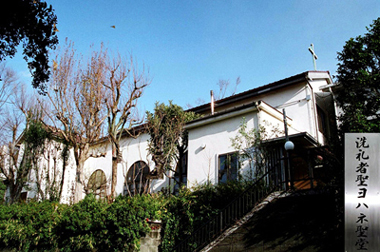 Name
Setagaya Catholic Church
Dedicated to
St. John the Baptist
Date of Establishment
March 17, 1946
Parish Priest
Stanislaus Fusao Sekine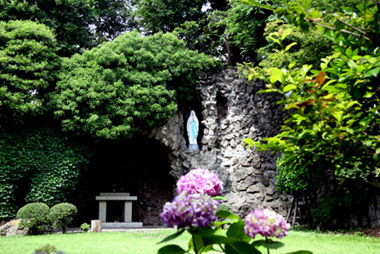 Number of Parishioners
641  (as of Dec.31,2019)
Sunday Mass (All in Japanese)
10:30 am
Weekday Mass
Every morning, afternoon and evening
Sunday School
Once a month " Room of Parents & Children"
Forum
Bible Class: The 2nd & 4th Sat. 14:30
Reading Class : "New Catechism" after the Sunday Mass at 10:30 am, except the last Sunday..:
Study on the documents of " the Early Fathers of the Catholic Church ". ( By Mr. Atsushi Suzuki )
on Fri. at 19:00
Bible reading class by turns on the 1st & 3rd Wed. at 13:30 by the group members.
Old Testament Bible Class: Reading of Genesis, from September 2010, on Fri. at 11:00 am
Address
1-45-12 Kitazawa, Setagaya-ku, Tokyo 155-0031
Telephone
03-3467-0974
Fax
03-3467-0965
Website
http://www.catholic-setagaya.jp/
Facilities for the Handicapped
Sloped Entrance, Toilet
Directions
5 minutes walk from Shimokitazawa Stn on Odakyu Odawara Line or Keio Inogashira Line. Or 5 minutes walk from Ikenoue Stn on Keio Inogashira Line.  Map(57kb)  GoogleMap
Parish History
History
1946 Father Petro Takemi Konda had rent rooms and started a church at Mr. Nakanishi's
house.
1947 The chapel of Fuchu graveyard had been moved to the present place of Setagaya
Church in Kitazawa and it had been reformed there. Using a nissen hut given by the
U.S. Army a small chapel had been built next to it. After that a grotto of Lourdes
had been built at the back yard.
1971 Father Konda transferred to Asakusa Church and Fr.J. Vianney Takeshi Sakuma
was assigned as the new chaplain.
1975 The alter for the grotto of Lourdes has been donated by Shirayuri Women's
University.
1976 The new alter has been made in the chapel.
2000 Assembly hall and the new parsonage had been built.
2003 Fr. Sakuma has resigned and Fr. Stanislaus Fusao SEKINE has been assigned as the
new chaplain.
Present Situation
The Church is located at Shimokitazawa at the back of Suzunari Theater in abundance of green which is surrounded by a certain quiet surprise. The Church gives the place of prayer
in silence to the people who are tired of din and bustle of a large city. The Church has good traffic access and provide spiritual programs such as singing hymns of Taize and Liturgy of the Hour to every one inviting them to drop in after their daily work. Let's pray together with us.
The details are on the website of the Church. http://www.catholic-setagaya.jp