Parishes

Seta Catholic Church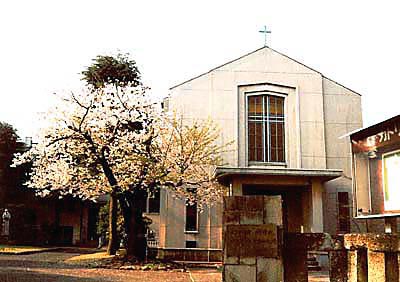 Name
Seta Catholic Church
Dedicated to
St. Anthony of Padua
Date of Establishment
September 12, 1952
Parish Priest
Joseph Hiroshi Konishi, O.F.M.    
Cooperative Priest
Carolus Atsushi Shoji, O.F.M.
Ferdinandus Hitoshi Shizuka O.F.M.
Paul Tsuyoshi Inoue, O.F.M.
Number of Parishioners
848 (as of Dec.31,2019)
Sunday Mass (All in Japanese)
7:00 am/ 9:30 am
Weekday Mass
6:20 am (after morning prayer)
Sunday School
Saturday School
Bible Study
Please refer to the website of Seta Church.
Volunteer Activities
Please refer to the website of Seta Church.
Address
4-16-1 Seta, Setagaya-ku, Tokyo 158-0095
Telephone
03-3708-0222
Fax
03-3700-0643
Website
E-mail
Facilities for the Handicapped
Slope (or Barrier free)
Directions
10 minutes walk from Futago-tamagawa Stn or Yoga Stn on Tokyu Shin-tamagawa Line. Parking available.  GoogleMap
Parish History
History
1951:Fr. Alfonso Schnusenberg has purchased a land at the hill of Seta.
1952:The monastery and small chapel have been built and the first chaplain Fr. Abel Moerman has been arrived. On12th of September Archbishop Peter Tatsuo Doi has offered the dedication Mass and the church has started.
1953:The second chaplain Fr. Gerard Piotrowski has been arrived and the Sacrament of Baptism has been given to Mr. Shigeru Yasui and other 4 people for the first time in the church
1954:On the 1st of May St. Anthony Seminary has been established and Sacrament of Confirmation has been given for the first time.
1957:The new chapel( old hall) has been blessed by Archbishop Peter Tatsuo Doi.
1960:On 11the of June the present new chapel has been completed by Bishop Laurentius Satoshi Nagae. The third chaplain Fr. Damasus Gollahas been assigned
1962:The forth chaplain Fr. Joachim Noboru Maegawa has assigned.
1964:The fifth chaplain Fr. Eugenio Pinci has assigned .
1968:Girls's Scout has been started.
1972:The seventh chaplain Fr. Tharcisius Roy has been arrived.
1973:St Anthony Hall has been completed and the convent of Franciscan Missionary of Mary has been built at the neighboring land. Fr. Thomas Masatoshi Kodaira has been ordained at the church.
1974:The 8th chaplain Fr.Sweeny Philip Callistushas been assigned
1977:The 9th chaplain Fr.Maximus Haruo Akimoto has been assigned and his silver jubilee has been celebrated.
1984:The 10h chaplain Fr.Joannes Masaru Kikuchi has been assigned.
1987:The 11th chaplain Fr. Carolus Takeshi Yamabe has been assigned.
1990:The 12th chaplain Fr. Joannes V.Masaharu Nagumo has been assigned.
1996:The 13th chaplain Fr. Linus Takeshi Odaka has been assigned
1999:The 14th chaplain Fr. Franciscus Xavier Ritsu Tanizawa has been assigned
2002:The 15th chaplain Fr. Herman-Josef Sauerbier has been assigned
The 50th Anniversary of the church has been celebrated.
2005:The 16th chaplain Fr. Linus Takeshi Odaka has been assigned
2008:The 18th:chaplain Fr.:Linus Takeshi Odaka has been assigned
Present Situation
The church has belonged to Tamagawa Dori Evangelical Cooperation Body with Shibuya church and Sangenjaya Church and seek for the new image of missionary parishes united as one Evangelical Cooperation Body.