Parishes

Sangenjaya Catholic Church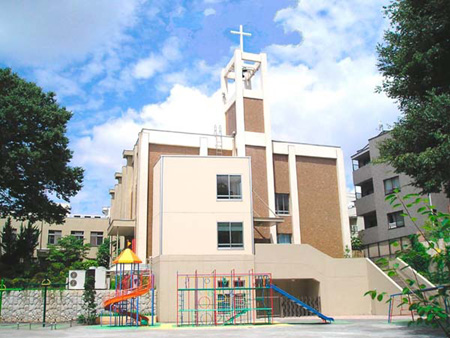 Name
Sangenjaya Catholic Church
Dedicated to
St. Peter & St. Paul
Date of Establishment
March 25, 1953
Parish Priest
Andreas Shun'ici Kiyonaga, O.F.M.
Cooperative Priest
Carolus Atsushi Shoji, O.F.M.
Ferdinandus Hitoshi Shizuka O.F.M.
Paul Tsuyoshi Inoue, O.F.M.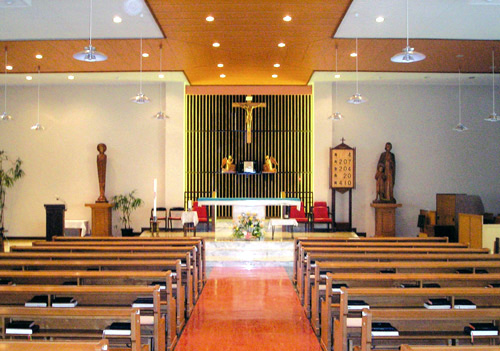 Number of Parishioners
1,480 (as of Dec.31,2019)
Sunday Mass
Saturday: 6:30 pm
Sunday: 8:30 am/ 10:30 am
Weekday Mass
Tuesday-Saturday: 6:30 am.
Closed on Mondays.
Sunday School
"Sangendyaya Catholic Church Sunday School" For: Elementary School Children Sun 8:30 (Sunday Mass included)
Bible Study
"Introduction"
For Beginner : No classes held. Please contact with Pastor Priest for information.
Thu.10:30˜11:30 for Anyone ( Fr. Kiyonaga )
Volunteer Activity
"Rice-ball meals service for Sanya" Volunteer group that makes and distributes rice balls for the homeless in Sanya.(3rd Thu.) 
"St. Lucia" Service for  Mini day Iki Iki Salon, etc.
"Marian Club" Sell cookies and healthy Food (Sun. Tue. Thu. 10:00 -15:00) 
"Mini day Iki Iki" Hold a meeting for the local aged people over 65 to enjoy lunch, singing and playing games. Sponsored by the Setagaya Social Welfare Association. (Mondays 10:00-14:00)
"Mini day Sancya" Cosponsored by the Setagaya Social Welfare Association. Hold a meeting for the local old people over 65 to enjoy light exercises and singing. Also the leaders of the Aged hold a lunch meeting to enjoy writing cards and doing calligraphy to share time. (1st, 3rd Wednesday 10:00-14:00)
Address
2-51-32 Sangenjaya, Setagaya-ku, Tokyo 154-0024
Telephone
03-3421-1605
Fax
03-3421-9788
Website
http://home.f05.itscom.net/sancha/
Facilities for the Handicapped
Slope, Elevator, Toilet
Directions
Take bus headed for Kamimachi from JR Shibuya Sta. to Wakabayashi 1 cho-me stop. 3 minutes walk from the stop. Or 13 minutes walk from Sangenjaya Sta. on Toku Shin-tamagawa Line. Or 13 minutes walk from Sangenjaya Sta. on Tokyu Setagaya Line. Parking available for approx. 20 vehicles only on Sundays and Holidays. GoogleMap
Parish History
History
In 1952, the Franciscan missionaries (Rome Province) have purchased a private Japanese house and established their monastery in Sangenjaya. In 1953, Archbishop Doi. had authorized it as a Parish of Archdiocese of Tokyo and the Church has been started. The chapel was located along the road and the kindergarten was at the back. But it has been changed to the opposite side. The chapel and the monastery are at the back on the height. The Church has celebrated the 50th anniversary in 2003. On this memorial occasion the Church has newly reborn and then a entire renovation of the chapel, construction for earthquake-proof building, and increase of elevator have been done so that anybody can visit the Church lightheartedly.
Present Situation
Sangendyaya Catholic Church belongs to Tamagawadoori Evangelic Cooperative Community (Shibuya Church, Seta Church, Sangendyaya Church) of Archdiocese of Tokyo.
In this community area there are fifteen religious houses and people feel it favorable environment. Also there are twelve Catholic educational schools and other facilities.
As the open Church toward outside local community the Church offer the Church Hall for "Mini-day iki iki" gathering of aged people once a week.
The Church also hold " Mini-day Sancha" under the joint auspices of Setagaya Social Welfare Conference twice a month and thus friendly exchange with local residents is quite active.
Children's gathering on Saturday has many local kids who enjoy it lively every week.
In the same yard there are Myojo Kindergarten and Boy's Scout Setagaya Troupe 7 & Girl's Scout Tokyo Troupe 16, who are very active as well.