Parishes

Kodaira Catholic Church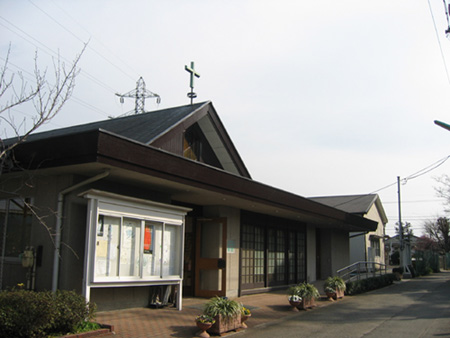 Name
Kodaira Catholic Church
Dedicated to
Immaculate Conception of Mary
Date of Establishment
1957
Parish Priest
Paul Ryota Koike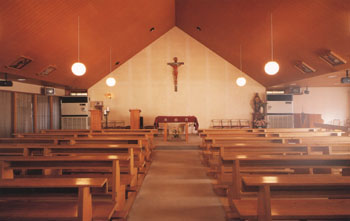 Number of Parishioners
1,037 (as of Dec.31,2019)
Sunday Mass
Sat. 18:00  Sun. 9:30 (All in Japanese)
Sunday School
Preschool children Sun, After 9:30 Mass (Once a month) Elementary school children Sun, After 9:30 Mass (No Sunday School on 1st Sun. ) high school student Junior high school student Irregular Sun, After 9:30 Mass
Address
2-32-10 Onuma-cho, Kodaira-shi, Tokyo 187-0001
Telephone
042-343-9981
Fax
042-343-9091
Website
http://st-maria-kodaira.xii.jp/
Facilities for the Handicapped
Sloped Entrance, Toilet for the handicaps.
Directions
15 minutes walk from North Gate of Kodaira Stn on Seibu Shinjuku Line. Parking is very few.GoogleMap
Parish History
History
Fr. Aemilius Naberfeld S.V.D. from Catholic Kichijoji Church offered Mass at the house of Isono family in May 1953 together with fifteen people and it became the beginning of Kodaira Church. A chapel was dedicated in July 1954 as a sub-parish of Kichijoji Church under the pastoral care of the Missionaries of the Divine Word Mission. (The number of Parishioners was 58 and the number of households was 29 families ). In 1956 Santa Maria Kindergarten has been established besides the Church. The properties for the Church, kindergarten and parsonage were donated by Mr. Isono. On Easter Sunday in April, 1957, Kodaira Church has been formed as an independent parish and Fr. Fr.Yoshio Ichikawa was assigned as the chaplain. Since the number of the Parishioners has been increased, the saving up money for the renovation of the chapel had been planned in 1969 and the present chapel has been completed in 1975. (The number of parishioners was 1,010 and the number of households was 499 families.) It was an unforgettable big incident that in February 1983 the chaplain at that time, Fr. Goro Kobayashi, was suddenly passed away after only four months of his hospitalization.
Environment
" This Church became an independent Parish and I can feel lively spirit. Now I remember the word of Jesus about sowing seeds. This Church has been dedicated to Our Lady, The Mother of Jesus. If we looked back how She put the word of Jesus into practice, or not only look back but if we also do the same as Her, our heart will become a very good rich soil so that we will be able to make the seeds of the Lord ripe well in us. When Our Father in Heaven will come down to us for the harvest we will be able to be shared in the benefit of Glory as She did. Let us be like Her looking up her example, glory and live everyday with joy. Like Her, let us work for further development of the Great Kingdom of the Lord by fostering the spirit being yielded in us during our silence and prayer. " This fore-ward was written by Fr.Yoshio Ichikawa on the Kodaira Church Newsletter Vol.on August, 1957.
Present Situation
Under the guidance of successive chaplains the Church has been continuously walking along the way to make the spirit of the Second Vatican Council , National Incentive Convention for Evangelization, and Catholic New Code of Canon Law realize among people. (In 1999, the number of the parishioners was 964 and the number of households was 470) Santa Maria In March 2000, the Kindergarten which had received more than 1,000 graduates had been closed after 44 years long history because of the policy of Tokyo Archdiocese. By the consideration of Tokyo Archdiocese, the building of the old kindergarten has given to the Church and then after some repair it became the assembly hall and new activity space of the Church. Being given the new place, together with the chaplain we will ask the intersession of St. Mary, our patron Mother of the Lord , and pray for the wisdom and courage that we may be able to discern the things we can change and can not change. " ( By Social Communications Group of the Church ) (Reference: Tokyo Archdiocese News Letter Vol.177, Oct. 2000)