Parishes

Kiyose Catholic Church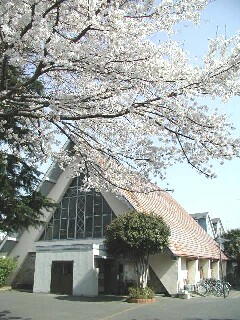 Name
Kiyose Catholic Church
Dedicated to
Nativity of Our Lord
Date of Establishment
July, 1936
Parish Priest
Paul Kunihiro Noguchi
Number of Parishioners
1,326 (as of Dec.31,2019)
Sunday Mass
| | | |
| --- | --- | --- |
| Sunday | 8:00 am | (Japanese) |
| Sunday | 10:00 am | (Japanese) |
| 1st Sunday | 1:00 pm | (English) |
| 3rd Sunday | 4:00 pm | (Tagalog) |
| 2nd Sunday | 10:00 am | (Sign Language with Mass) |
| 4th Sunday | 10:00 am |  (Sign Language with Mass) |
 Weekday Mass
Monday to  Friday  8:00 am (Japanese)
Sunday School
Saturday school from 2 pm to 4 pm.
Bible Study
After Sunday at 10:00 am Mass .
(Mainly for Catechumens)
Address
1-21-12 Matsuyama, Kiyose-shi, Tokyo
204-0022
Telephone
042-491-0104
Fax
042-491-1744
Website
Facilities for the Handicapped
Slope (or Barrier free), Toilet
Directions
7 minutes walk from South exit of Kiyose Station on Seibu Ikebukuro Line. GoogleMap
Parish History
History
In July, 1936, Fr. Joseph Flaujac from the Paris Mission Society founded a Church, in Umezono Kiyose City, on the property of the Congregation of Japanese Sisters of Bethany. The 2.26 agitation on 26th of February, also happened in the same year which became a turning point toward militarism in Showa history in Japan. But away from the threatening noise of the society, Kiyose area was still calm in remote farm village where only sanatoriums for tuberculosis and leprosy "Zen Shou En." were dotted. In 1940 Societe de Marie have purchased the land ( about 8,000 Tsubo) at 100 meters away in the south side of Kiyose Station on Seibu Line to build the novitiate monastery in the pine coppice where stables and barns were studded. The monastery of Societe de Marie was quite big with the capacity of 80 people which has been saved from the damage by the World War Ⅱamong all other buildings of Societe de Marie, but it has been burnt out in June 1947 because of big leakage of electricity. After that a Nissen hut was built at the ruins of the fire. In 1958 the monastery was moved to Oiso in Kanagawa Prefecture because new houses and stores were increased gradually around the area and the environment became not so suitable for the novitiate monastery in Kiyose. In May 1958 Tokyo Archdiocese has purchased a part of that site for building a new Church with the financial support from Cologne Archdiocese with the financial support from Cologne Archdiocese. Thus the present Catholic Kiyose Church has been born . The former Kiyose Catholic Church was renamed Akitsu Catholic Church and made her new start. In 1968 the10 years anniversary has celebrated and the statue of Our Lady of Lourdes has raised. In 1970 the parsonage has also enlarged. At the middle of 1975 the chapel (partially wooden building with two stories) built 20 years ago has become more decrepit and then renovation of the roof and floor were necessary. On the occasion of 25th anniversary the new construction plan of parsonage and assembly hall were decided as a priority project. The contribution activity for the new construction was started by the people and in December 1988 the wonderful parsonage and assembly hall have been completed and the hall has been the place of community activities with the spirit of openness toward people around the area. In April 1993 the public cemetery for the members of Kiyose Church has been completed in Fuchu Graveyard of Tokyo Archdiocese.
Present Situation
The number of Parishioners were about 1,400 including those who came from the neighboring cities because there is enough car parking area and also traffic access is good. On the first Sunday there is a Mass in Tagalog and about 200 Philippine people have attend. (Reference: Catholic Tokyo News Vol. No.124, June, 1995 by Mr. Noritaka Kouchiyama)