Parishes

Kasai Catholic Church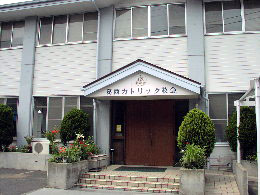 Name
Kasai Catholic Church
Dedicated to
St. Augustine
Date of Establishment
1969(as Matsue Church) [1985 Moved to Kasai Church]
Parish Priest
Thomas Kozaki Hiroyuki Shibata, O.S.A.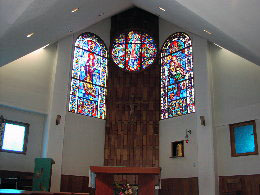 Number of Parishioners
1,171 (as of Dec.31,2019)
Sunday Mass
Saturday: 7:00 pm (in Japanese)
Sunday: 10:00 am (in Japanese) / 4:00 pm (in English)
Weekday Mass
Monday-Friday: Morning Prayer  8:15 am
        Mass  8:30 am
First Friday: 10:30 am
Sunday School
Sun.9:00˜10:00
Faith Education
http://www5.ocn.ne.jp/~kasaicc/faitheducation.pdf
Volunteer Activity
Lunch service for the homeless, visiting Senior Homes, support fro the aid to Bolivia.
Address
1-10-15 Naka-Kasai, Edogawa-ku, Tokyo 134-0083
Telephone
03-3689-0014
Fax
03-5696-4449
Website
http://www5.ocn.ne.jp/~kasaicc/
Facilities for the Handicapped
Slope (or Barrier free), Toilet
Directions
Take bus No.24 heading for Funabori Sta. from Kasai Sta. on Tōzai Subway Line, and get off at Kasai Yūbinkyoku stop (Kasai Post Office stop). 3 minutes walk from the stop. Take bus No.24 heading for Nagisa new town from Funabori Sta. on Shinjuku Subway Line, and get off at Kasai Yūbinkyoku stop (Kasai Post Office stop). 3 minutes walk from the stop. Map GoogleMap
Parish History
History
Catholic Kasai Church has been pastored by the Augustinians from its start. In 1969 they have started the mission at the small Church along the Dojunkai street in Matsue of Edogawa Ward in Tokyo. The Church was named Matsue Catholic Church. The Church had developed gradually and needed more space for the increasing Church members. In 1985 the Church has decided to move to the south and settled the Church at present site, Kasai area, where population was expected to increase that time. The Church has made a new start with the renamed Kasai Church. As expected young families have been increased continually in the south of Edogawa Ward toward Urayasu and Gyotoku area. Walking along the street from Kasai Station on Tozai line and Nishi Kasai Station to the Church, the appearance of the town has been changed a lot during these 20 years. Not as before the Church has been totally surrounded by many houses now.  
【With the spirit of Fr. Thomas P. Purcell 】
Fr. Thomas Purcell who past away on 27th of November in 2004 had devoted himself to the establishment of this Church. He was a member of the three Augustinians who had come again to Japan in 1952 after 300 years since the end of Christian persecution in 17 century. Born and grown up at the small poor town of coal mine in Pennsylvania, U.S.A. Fr. Purcell had chosen the poor area where many poor people lived as his mission field and formed a community there. Carrying on his spirit the Church is taking many activities for evangelization and social welfare with the help of several religious Sisters. The seminarians who study at St. Augustine's House for formation at Toshima Ward also cooperate with these Church activities as a part of the same Church community for their formation.
Present Situation
【Together with foreign parishioners 】
" Who is this person, Sir ? " One Sunday afternoon a child who seemed to visit Catholic Church for the first time asked to me pointing the image of Jesus Christ on the cross at the back of the alter. " He is Jesus" a girl beside the child replied at once. " Besides you should call this person not Sir but Father." she added. These children gathered around the church before and after the Holy Mass in English at 4:00 pm bringing their friends to the Church. This kind of tiny conversation with children becomes a Sunday scenery now. When they inter the chapel it seems those Japanese children might have an impression as if they were suddenly taken to a foreign country from Japan for the first time. I wonder how the priests who had been served for this Church 35 years ago in the early time at the small downtown in Tokyo, will expect to see over 150 foreign people attend every Sunday Mass singing hymns and praying together. Who could imagine that ?
【Various Activities】
The central event is Holy Mass and then people participated into various activities of the Church. Starting from sectional groups, there are many working groups like food service for homeless people, visiting the aged people, found raising activity of social welfare for the aid in Bolivia. Educational and faith groups are Church school, Junior & Senior high school class, and prayer with faith sharing. As a member church of Keiyou Evangelical Cooperative Group Kasai Church seeks for possible services in this region together with Koiwa Church, Ichikawa Church, and Shiomi Church.   ( The chaplain Fr. Jesus DAÑO )