Parishes

Himonya Catholic Church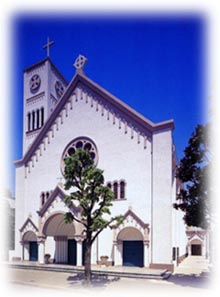 Name
Himonya Catholic Church
Dedicated to
St. Mary of Edo
Date of Establishment
September 5, 1948
Parish Priest
Joseph Mitugi Matsuo, S.D.B.
Associate Parish Priest
Peter Shin Mishima, S.D.B.
Cooperative Priest
Bautista Massa, S.D.B.
Attilio Felicani, S.D.B.
Peter Yoshiki Sekiya, S.D.B.
Number of Parishioners
2,917 (as of Dec. 31,2019)
Sunday Mass: (All in Japanese)
7:00 am/ 9:00 am (Mass with Children) / 10:30 am/ 18:00 am
9:00 Mass takes place only when we have Sunday School.
Weekday Mass
Monday-Friday: 7:00 am
First Friday: 10:30 am
Sunday School
Sun. 9:00 (for elementary school children) Sunday afternoon: soccer club, art painting club
Catechism
We invite those seeking instruction in the Catholic faith to please ask for information at the Church Office.
Volunteer Activity
Himonya Church undertakes numerous charitable outreach activities through its parish Social Welfare Group. These include supporting a program for immigrant children at Hamamatsu Church, humanitarian missions to East Timor, and providing vocational training and other support for the Tetere Church parish community in Guadalcanal, Solomon Islands.
Address
1-26-24 Himonya, Meguro-ku, Tokyo 152-0003
Telephone
03-3713-7624
Fax
03-3713-7513
Website
https://himonya-salesio.jp/english.html
Facilities for the Handicapped
Slope or barrier free entrances are available for the church and parish center. Restroom facilities equipped for handicapped use are available.
Directions
By Bus: Take the Tokyu bus No. 1 (黒01), bound for Ookayama Shougakkou, from the No. 3 bus stop of the West Exit of JR Meguro Station. Get off at the stop named Salezio Kyokai. By Train: The church is a 15-minute walk from Toritsu-Daigaku Station on the Tokyu Toyoko Line. (See map below.) By Car: From JR Meguro Station, proceed outbound on Meguro-dori for 3.2 kilometers, to Himonya (碑文谷) Intersection. Turn left at Himonya Intersection and proceed 0.4 kilometers. Church will be on your left. Parking available. GoogleMap
Parish History
History
In March of 1948, the Salesian Fathers of Don Bosco (S.D.B.) established their Tokyo missionary base at Himonya in Meguro-ku. The mission's first building was a simple two-story structure with a chapel on the first floor and a rectory on the second floor. As the first pastor, Father Dal Fior started celebrating the Mass in the chapel, and reaching out to the local community. The very next year, 1949, saw the establishment of a new kindergarten, as the mission's large premises surrounding the chapel became a playground for many children in the area. Within a few years, the new mission outgrew the little chapel, and in 1954 the present church was built. It was during the construction of this beautiful new church that a holy picture of Our Lady was found at the Ueno National Museum among the effects of persecuted Christians of the Edo era. Research confirmed that the picture had been among the belongings of Father Giovanni Battista Sidotti. Father Sidotti was a Catholic priest who arrived in Japan through Yakushima Island from Italy in 1708, one of the last Christian missionaries from abroad who managed to enter the country during the Edo shogunate's persecution of Christianity and who died in an Edo prison in 1714. The Church recognized this beautiful picture of Mary as "Our Lady of Edo." It was thus quite appropriate that the new Salesian church then under construction in Himonya was dedicated to Our Lady of Edo as its patron saint. In conjunction with the church's dedication ceremony, the original "Our Lady of Edo" was on display to the public for four months. A replica of this holy picture was placed in the right chapel of the new church, and can be seen today immediately on entering from the side entrance. The design and construction of the church, which was supported financially by many Italian people, is in a Romanesque style. Italian marbles give the interior a solemn serenity. The mural paintings and much of the frescoed ceiling are the masterpieces of Brother L. Ferrari, and contribute to the prayerful atmosphere in the church. In addition, beautiful stained glass windows wonderfully present the life of Jesus Christ and symbols from the Bible and Church history. From its beginning, this Catholic church in Himonya has been commonly called the "Salesian Church" ("Salezio Kyokai" in Japanese) because of its entrustment to the Salesian Fathers by the Archdiocese of Tokyo. Like other Salesian churches, our church in Himonya has long run an active Sunday School for children ("Oratorio") and many other youth activities. Moreover, since Father Dal Fior was a pupil of noted musician Father Vincenzo Cimatti and himself gifted with musical talent, he built a strong music education program and church choir that continue to flourish to this day as a legacy of his lifelong work.
Our Salesian Church today
In February of 1967, the Salesian Church became a new independent parish. Its parish community has blossomed with many activities, including the "Joseph-kai" Men's group, the Women's group, a Youth group, and a Social Welfare Group that actively engages in many projects for the needy. This latter group actively undertakes various overseas assistance projects, notably its material and spiritual support for the Tetere Church in Guadalcanal, the site of intense battles and devastation during the Second World War. Given the focus of Silesian founder Saint John Bosco on the development of youth, it is natural that our Salesian Church in Himonya puts much effort into pastoral activities for youth. Every Sunday about 150 children gather together for catechesis and then to play games after the Mass. In the afternoon they enjoy playing in an active soccer club, a gymnastic group or a painting group. The playground of the church premises is open on weekdays so that children and families can be welcome to enjoy outdoor recreation, in the spirit of Don Bosco!