Parishes

Fuchu Catholic Church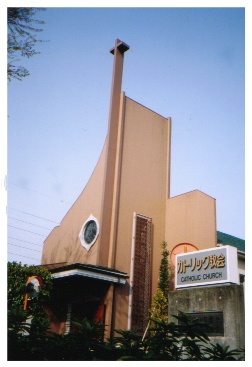 Name
Fuchu Catholic Church
Dedicated to
The Holy Family
Date of Establishment
1990
Parish Priest
Vincent Lazun Naw San P.I.M.E.
Cooperative  Priest
Andrea Lembo  P.I.M.E.
Number of Parishioners
968(as of Dec.31,2020)
Sunday Mass
Saturday 4:30 pm 
Sunday 10:00 am
Weekday Mass
Friday 9:30 am (Japanese)
Sunday School
Small Children Class  (Nursery & Elementary School Children) 
1st, 3rd, 5th Sunday 11:00-11:30
Study Programs
Bible Study Class
Friday 10:15-11-15 : Bible research study

Introduction to Christianity
2nd, 4th Sunday 12:15-13:15
Volunteer Activity
Children's cafeteria : 2nd, 4th Saturday 11:30 am-1:30 pm
Study support for children : 4th Saturday 1:30-3:30 pm
Activity
Taizė Gathering :  In Preparation
Address
1-40-11 Fuchu-cho, Fuchu-shi, Tokyo 183-0055
Telephone
042-361-9888
Fax
042-369-3863
Facilities for the Handicapped
Slope, Toilet, Stair lift
Directions
From Fuchu Station on Keio Line: From the bus terminal No. 2 of Keio Bus, take the bus "Tera 91"
for "Kokubunnji Eki Minamiguchi Yuki" and get off at "Nougyo
Koukou "
From Kokubunnji Station on JR Line: From the South exit take the bus at Keio Bus "Tera 91" for
"Fuchu Ekiyuki" and get off at "Nougyo Koukou "  GoogleMap
Parish History
Fuchu  Catholic  Church has been consecrated in 1978 July 16th.
Originally this Church was the Japanese headquarter of the Pontifical Institute for Foreign Missions (PIME).
In January 1990, it has been instituted as Parish, belonging to the Roman Catholic Archdiocese of Tokyo.