Parishes

Azabu Catholic Church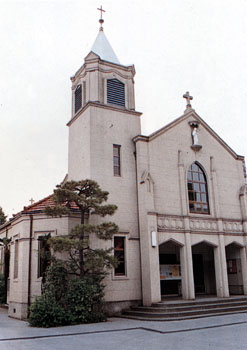 Name
Azabu Catholic Church
Dedicated to
Sacred Heart of Jesus
Date of Establishment
May 3, 1882
Parish Priest:
Luke Jun'ichi Ebe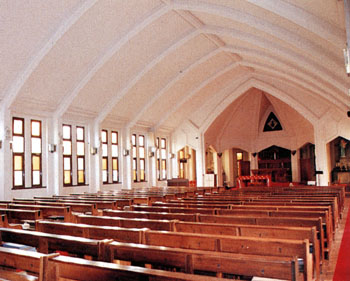 Number of Parishioners
1,773 (as of Dec.31,2019)
Sunday Mass(All in Japanese)     
7:00 am / 9:30 am
Weekday Mass
Tuesday-Saturday: 7:00 am
First Friday: 10:00 am (no 7:00 am mass)
Sunday School
Saturday School:the1st and 3rd Sat. 15:00-16:00(for kindergarten and elementary school children)
Bible Study(All in Japanese)
Tue. 10:00am, Sat. 11:00am / Introduction to Christianity
Wed. 19:30 / Study on the week after "Sunday Liturgy" leaflet)
Fri. 10:00 am / Study on the next Sunday Liturgy
Volunteer Activity
Several activities have been planned and carried out by the Social Services and Welfare Groups of the Church.
Address
3-21-6 Nishiazabu, Minato-ku, Tokyo 106-0031
Telephone
03-3408-1500
Fax
03-3408-2575
Website
Facilities for the Handicapped
Slope ( Barrier free), Toilet
Directions
8 minutes walk from Roppongi Station of Hibiya Subway Line or Ōedo Subway Line.
GoogleMap
Parish History
History
Founded on May 3rd, 1882 as a sub-Parish of Tsukiji Church in Akabanebashi, about 4 Km away from Tsukiji., for the increasing numbers of faithful living in Shinbashi, Shinagawa, and Aoyama. The new chapel was named as "Holy Cross Chapel" commemorating the Discovery Day of the Holy Cross. In 1889 Father Papino from Kanda Catholic Church rented the land on the site of the present Catholic Azabu Church since the chapel of Asakusabashi became very crowded Then a compromised Japanese-European style church building was constructed. Father Papino was an excellent architect and designed many churches like Asakusa Catholic Church. Missionaries of the Methodist Communion were also active in the Azabu district. Toyo-Eiwa Girls' School had great result for its missionary work.
From March in 1892 Fr. Lezey lived in the Azabu Church as the first chaplain. Since he had published a church magazine twice a week while he was a chaplain of Kanda Church, he started the same for Azabu Church too. But from 1893 Azabu Church became one of the least active churches and a quiet parish among the 6 parishes in Tokyo.
In November of 1892, the chaplain, Fr.Lezey left for Kofu and Matsumoto regions. His successor Fr. Sutter also left Azabu Church after one year and returned his home country. Then he entered Trappist Monastery. The next chaplain
Fr. Guyon also left for Hamamatsu and Fujieda regions after two years stay. The reasons behind these frequent changes of the chaplains at Azabu Church could be found as follows. The Holy See had decided to educate all the churches in each district through the power of authority in order to prevent from various diversity and relativism of value in modern world. In
1879 the Holy See had ordered to hold a local Conference of Bishops calling for several bishops in each mission district. In Japan it was delayed due to many reasons but in 1890 the Conference of Bishops had been held in Nagasaki inviting Papa Nuncio in Korea.
The resolution of the conference was officially announced in 1890 which was a volume of guidance and supervision including the responsibility of priest, catechists, lay, and under catechumen. But this shook the Churches in Japan by severe policy of the Holy See which did not consider the situation of the local churches at that time. Then those who were progressive and active priests were moved many to local parishes in remote area.
Another reason was that in 1888 a command headquarter of battalion had been settled in Azabu and many officers resided there from outside. They had repelled strongly against the result of Japan-China (Shin) War regarding the territory problems interfered by Germany, France and Russia. Their antipathy was often pointed at French missionaries also.
Fr. Steichen was a mild person and once thought of moving the Azabu Church to other place. But it was impossible because of financial reason. So he decided to stay in a gentle way not to stimulate the feeling of the residents by limiting the activities in a small size.
In this way the people of Azabu Church had learnt patience and formed family like church community by supporting each other in simple faith. Their silent walks have borne a big fruits in the future. In 1921 Azabu church at last became a largest church in 6 parishes in Tokyo.
( From The Tokyo Archdiocese News vol.85, July 1991)