Parishes

Togane Catholic Church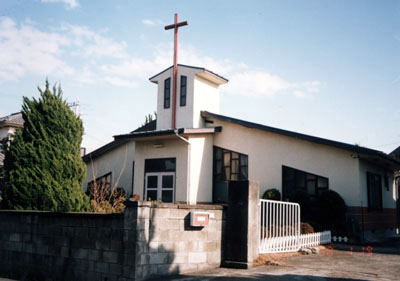 Name
Togane Catholic Church
Dedicated to
The Holy Family
Date of Establishment
March, 1959
Parish Priest
John Ap. Shigeru Ozawa
Number of Parishioners
208 (as of Dec.31,2019)
Sunday Mass
9:30 am (Japanese)
4th Sun. 9:30 am (International Mass)
Weekday Mass
1st, 3rd Fri. 10:30 am
Sunday School
"Children Gathering"  Sat. 6 pm – 7 pm
(From children of kindergarten, elementary school, junior high school, senior high school students and to their parents.) 
Volunteer Activity
Once a month we visit hospitals and care facility.
Activity
Meetings: A.A., N.A. (Once in a week respectively.)
Address
251-2 Togane, Togane-shi, Chiba 283-0802  Google Maps
Telephone
0475-52-2357
Fax
0475-52-2357
Facilities for the Handicapped
Slope (or Barrier free), Toilet
Directions
8 minutes walk from JR Tōgane Sta. Parking lot available for total of 20 vehicles.
Parish History
History
The church was established by the Columbans and in March in 1959 the Togane Catholic Church dedicated by Fr.Petro Takemi Konda and started as a sub-parish of Mobara Church with only 7 – 8 people.Then 7 years after the Church has been recognized as an independent Church and became a Togane Parish , which has been a long – cherished desire of the Church. During the time of its start many priests from Chibadera Church, Mobara Church, and Kamogawa Church came to support the Church Community. On May 2001 the chaplain Fr. Joseph Finnerty, Irish Priest, has been past a way at Togane Church. After that Fr. Joseph David Broderick has been assigned as the chaplain for both Chibadera Church and Togane Church. Afterwards until the Easter of 2011, The chaplain was Fr. Marco Antonio MARTINEZ M.G. from Mexico who is also a pastor of Chibadera Church. From April of 2008 Fr. John Shigeru Ozawa has been permanently stationed at the Church and serves for Mass and instructs the sharing session as the spiritual supporter.After the Easter of 2011 Fr.OZAWA was assigned as the pastor.
Environment
Togane Church is located in the quiet residential area of the central part of Togane City adjoining Chiba City about 8 minutes walk from the JR Togane Station. The chapel is a mortared old building which has watched over many people for long time. It has a certain historical calm appearance and is warmly welcoming people still now.
Present Situation
There are about 300 parishioners with variety of nationalities and they seeks to have a sense of one community. It wishes and means first of all the importance of their inner unity in Christ and sharing spirit of Him among the people Catechism for children has been focused as important education. On Saturday evening the Bible class for Children with their parents has been held under the instruction of the priest. They share the words of the Bible and sing praising hymns together. Sunday Mass is at 9:30 am and English Mass is on the third Sunday at 15:00. In week days there is a Bible sharing class on Friday after the mass at 10:30am. Though the Church is small but we will pray together and spread the words of the gospel to every one.