Parishes

Tateyama Catholic Church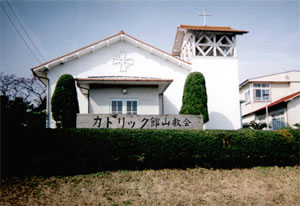 Name
Tateyama Catholic Church
Dedicated to
The Holy Cross
Date of Establishment
May 21, 1947
Parish Priest
 Stephen Bonaventura Hideo Kato (Also takes charge of Kisarazu Church)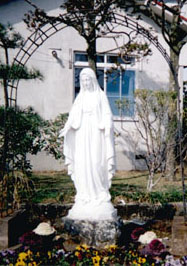 Number of Parishioners
100 (as of Dec.31,2019)
Sunday Mass
2 pm (Japanese)
Bible Study
3rd Wed. 1 pm
Depending on the schedule of the participants, the Bible study class will be decided.
Address
1901-7 Hojyo, Tateyama-shi, Chiba 294-0045 MAP
Telephone
0470-22-0780
Fax
0470-23-3567
Directions
10 minutes walk from JR Tateyama Sta.of Uchiboso line, Parking lot available for 30 vehicles. GoogleMap
Parish History
History
The first chaplain of Tateyama Church, Fr. John Hikaru Mochizuki had laid the cornerstone of the church in 1947 by bringing a Nissen hut to the present site and set up the " Consent chapel" . Since then up to the present time the church has walked the way of faith toward our salvation in the Lord with 17 chaplains. In 1997 the Church has celebrated the 50th anniversary joyfully inviting Cardinal Peter Seiichi Shirayanagi, Bishop Paul Hirokazu Mori and Rev. Fr. Brian Vale,S.S.C., the former superior of St. Columban Foreign Mission Society in Japan with many guests and parishioners. It has been kept in our good memory.
Environment
Tateyama Church is located in the south district of Chiba prefecture. Although the church community is quite small with less than 100 people but they have warm family atmosphere. Around the church colorful flowers bloom in each different season. Especially during the Easter season the church is surrounded by so many flowers of poppy, rape, marigold and stock in the air of full spring. The beautiful lines of cherry blossoms in front of the church gate attract the eyes of many passers by. In summer time the church hall has been used as the lodging for many groups of Christians who used to spend some days in Tateyama enjoying swimming, camping and sightseeing to make their good memories during their vacations. By the opening of Tokyo Bay Aqualung many people have visited Tateyama than before and the city is changing to be a sightseeing spot thorough out the year
Present Situation
The future theme of the church will be how to cope with the advanced ages and the decrease of the parishioners as the world goes. Under the guidance of the chaplain it is important that each parishioner should become the witness of the mission of the church as lay missionary thorough the activities and prayer for the the church. At the same time some concrete plan to involve with outside local activities so that people of the area will understand about Catholic church. On the Chiba Regional Mission Cooperative Community held in Autumn of 1998 it was emphasized that not only ourselves but also together with neighboring people should be focused always. In our society we also should include foreign people who came to Japan to find the job. By the initiative of young people and with the chaplain we hope and plan to have these activities for outside people and make the church for young people to gather together. It is necessary and also we will see the light of hope. We wish to walk patiently to activate our community of Tateyama and seek for our faith to grow deeper. ( Tokyo Catholic News No. 153, May 1998)