Parishes

Nishi-Chiba Catholic Church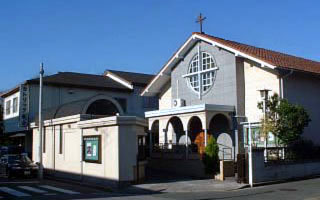 Name
Nishi-Chiba Catholic Church
Dedicated to
Our Lady of the Assumption
Date of Establishment
1954.8.15
Parish Priest
Paul Kazumoto Fukushima 
Associate Parish Priest
John Mary Michael Tadashi Furuichi
Number of Parishioners
1,843 (as of Dec.31,2019)
Sunday Mass
Sat. 5:30 pm (Japanese)
Sun. 7:30 am (Japanese) / 9:30 am (Japanese)  ※ No 9:30 a.m. Mass on the 2nd Sunday .
1st Sun. 12:30 pm (English)
Weekday Mass
Tuesday , Saturday  7 am (Japanese)
Friday 10 am (Japanese)
Sunday School
"Sunday School" After 9:30 am mass.
For elementary school children.
"Saturday School" Irregular 
Volunteer Activity
"Making Transliterated Tapes For Those with Hearing Disabilities"-Transliterate and make tapes of Lessons and Homilies on Sundays and of the Diocese News : 2nd Wednesday 13:00~16:30
"Sign Language for the Blind"-Translate Sunday Mass
"Sending clothes to Brazil" :Every fall
"Sending clothes, blankets, preserved food etc": Twice a year
"Visiting and helping the sick": anytime
Address
11-14 Shiomigaoka-cho, Chuo-ku, Chiba-shi, Chiba 260-0034  Google Maps
Telephone
043-241-4812
Fax
043-246-9333
Facilities for the Handicapped
Slope (or Barrier free), Toilet
Directions
8 minutes walk from JR Nishi-Chiba Stn.  
4 minutes walk from Nishi-Noborito Stn on Keisei Chiba Line.
Parish History
Environment
This Church is Catholic Nishichiba Church. Catholic means universal and global. Catholic Church has been spread all over the world since more than 2000 years ago. The head of Catholic Church is the Bishop of Rome who is Pope and he reigns over all the Catholic Churches in the world as a sign of unity of all Catholic people in one faith community united with Mystical Body of Our Lord Jesus Christ. The world Catholic population becomes over ten billions now. Catholic Nishichiba Church
belongs to Archdiocese of Tokyo which includes Tokyo Metropolis and Chiba Prefecture and Arch bishop Peter Takeo Okada is the head pastor over Churches in the Archdiocese.
Chiba Church ( the former Nishichiba Church) had been started in 1882 and transferred to the present location in 1954 with the new name of Nishichiba Church.
The Church has been dedicated to Assumption of Our Lady as a patron
Saint of this Church. We have one priest serving as the chaplain.
History
Evangelization in Chiba prefecture has some unique characteristics different from others in the history. Generally speaking evangelical mission had been centered in the area of prefectural seat or big castle town where protest against Christianity was comparatively not so strong and the many intellectuals resided there during that time. But in Chiba prefecture it had been planed by the devoted missionaries and then they
built the mission in the remote rural community or farm village. In Yokohama city Catholic Church had been constructed before Meiji era and priests of Missions Etrangeres de Pris had been sent to Japan.
From the early time they had started evangelization for the village people of Chiba who could be seen from the opposite bank of Tokyo Bay.
They crossed the Tokyo Bay to Chiba by boat and just walked to the villages where there were no rail ways to travel around.
We can find their footsteps of mission activities at Kisarazu, Tsurumai, Mobara, Aohori, Susai, Tomiura, Tateyama, Chikura, Youkaichiba,
Choushi, Sahara, Sakura, Funabashi, Matsudo, Nagareyama from Meiji, Taisho to Showa periods.
The supporters of these foreign missionaries understood , accepted the new teaching of catechism and offered their help. They were the educated former samurai (warriors class) during the early Meiji period.
They had supported the mission activities as catechists because the Archbishop's House had been settled at Tsukiji in Tokyo but the priests could not visit their mission area only few times a year.
The first missionary who had started mission work in Chiba Prefecture was Fr. Vigroux Francois, Paulin MEP. He taught at Kanda Major Seminary but after the close of the Seminary he had joined local mission.
From 1979 he had traveled Fukushima, Ibaragi, Tochigi and Chiba Prefectures.
In April 1882, the first chapel had been established at Inohanadai in Chiba Prefecture. This church had been dedicated to Our Lady and became a sub-Church of Tsukiji Church. Fr. Vigroux Francois became the chaplain of Tsukiji Church and the director of Kouyama leprosarium.
After that Fr. Cadillac Jean, Pierre took over this Church as an itinerant
chaplain from Utsunomiya Church and the Church became its sub-Church.
In 1939 Fr, Shigeru Komatsu had been assigned as the first regular chaplain of this Church and the chapel had been renovated. It is quite
amazing that the Church could remain long time as a sub-Church of other Church for nearly 60 years. But in April, 1945 compulsory removal
had been ordered to this Church and then this Church had to move
from the place to different houses of the Church members like a strolling Church, since there was no place to settle down this Church.
In 1947 at last the Church had been temporary settled at the substitute land in Gotsuma Chou and then the chapel was renovated. St. Maryi kindergarten was newly established as an attached building inside the Church yard. In 1954, the Church and the kindergarten have moved to the site of the present church and became the Parish.of Nishichiba Church
In the rapid urbanization of today people from other countries and prefectures have moved to this area and joined our Church community now.