Parishes

Kamogawa Catholic Church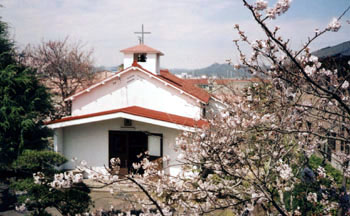 Name
Kamogawa Catholic Church
Dedicated to
Sacred Heart of Jesus
Date of Establishment
1952
Parish Priest
Nguyen Xuan Tien S.S.C. (Also takes charge of Goi Church)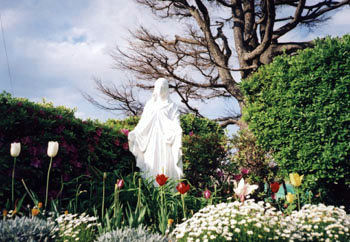 Number of Parishioners
34 (as of Dec.31,2019)
Sunday Mass
2nd, 3rd, 4th, 5th Sun. 2 pm
1st 2 pm (Communion Service)
Bible Study
Months bearing even numbers
Address
1727-1 Yokonagisa, Kamogawa-shi, Chiba 296-0001
Telephone
04-7092-0432
Fax
04-7092-0432
E-mail
Facilities for the Handicapped
Slope (or Barrier free)
Directions
GoogleMap
About 15 minutes walk from JR Kamogawa station.
Parish History
History
According to the history of the Church, in 1951 Father James Doyle of the Columban Missionery has founded Kamogawa (Kaizuka) Catholic Church and English language institute was also built there. In 1952 the Church has became independent as Kamogawa parish. More than 8 priests of Columba Missionary have been assigned as chaplain from the beginning to 1990 and they have found family like community there. From 1991 Japanese diocesan priests have been assigned as the chaplain of the Church and then 40 years anniversary of Kamogawa parish has been celebrated in 1992.  
Environment
Kamogawa is a small city in the south of Boso Peninsula. The population is 30,053 which has 14,143 male and 15,910 female and 11,430 families. The south Boso is the birth place of holy Buddhist monk Nichiren, the founder of the Nichiren Buddhist Sect, and there are many Buddhist temples. Also there is an Anglican Church near Kamogawa Church. The coastline of the Pacific Ocean along the east side of Boso Peninsula is long and very beautiful. In summer the long beach is crowded with many sea bathers. The beach is located at the foot of the mountains. On the way going down to the south of the East side of Boso Peninsula, the beautiful beach of Pacific Ocean view appears on the right side and the green mountain view is on the left side. Kamogawa is the terminal station of the east coast traffic line in a remote place from Tokyo because it is not easy access to traffic facilities comparing Tateyama in the west coast side of Boso Peninsula where the traffic service is more frequent. Really Tokyo is quite far from Kamogawa but it is also good for us because being away from populated Tokyo we can keep our local uniqueness and beauty as our treasure.
Present Situation
Catholic Kamogawa Church has 52 members of 30 families and 3 – 10 foreigners come to join the Mass. The Church is about 15 minutes walk from JR Kamogawa station. In the green yard of the Church the statue of Our Lady stands and prays for us. The chapel is small but has warm serenity. The Church is dedicated to Sacred Heart of Jesus. We raise our eyes to Jesus on the cross who suffers from our sins and wickedness. We see our impiety as we look at Him on the cross and realize that His suffering is due to our sinfulness. The Church lives in the Sacred Heart of Jesus and we always ask and seek His mercy, joy, generosity, comprehension and protection. Kamogawa City has been remote area from Tokyo before but now superhighway buses are running crossing the Tokyo Bay which take about less than 2 hours from Tokyo to Kamogawa Station. Kamogawa Church lives in a way of small community but keeps family togetherness wishing to pray each other with you all. (Reference: Catholic Tokyo News Vol.No.172, April 2000 by Fr.Hideo Kato)