Parishes

Ichikawa Catholic Church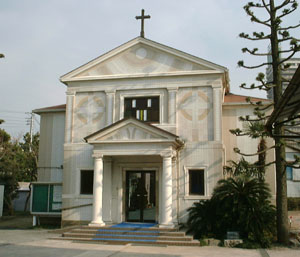 Name
Ichikawa Catholic Church
Dedicated to
Our Lady of the Rosary
Date of Establishment
1945 (Moved to the present site and dedicated in 1949)
Parish Priest
Francis As. Atsushi Ito (Also takes charge of Matsudo Church)
Associate Parish Priest
Francis As. Satoshi Tomita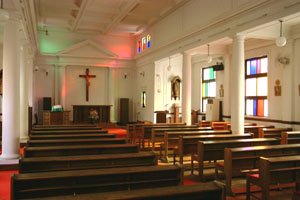 Number of Parishioners
1,207 (as of Dec.31,2019)
Sunday Mass
8:00(Japanese) / 10:30(J) , 1st Sun 13:30 (English), 2nd & 4th Sun. 13:00(Spanish)
Sunday School
Kodomo Hiroba(The place for children under 18 years old, whose parent(s) are non-Japanese): 1 st Sunday 16:00-7:00, the 2nd Sunday, 14:00-15:30.
Address
3-13-15 Yahata, Ichikawa-shi, Chiba 272-0021
Telephone
047-322-5488
Fax
047-321-3840
Website
http://www.catholic-ichikawa.com/
Facilities for the Handicapped
Slope (or Barrier free), Toilet
Directions
10 minutes walk from North Gate of Motoyawata Station on JR Sobu Line. 5 minutes walk from A5 Exit of Motoyawata Station on Shinjuku Subway Line. 8 minutes walk from Keisei Yahata Station on Keisei Line South Exit. 5 minutes by car from Ichikawa Interchange of Keiyo Freeway. Parking space available for total of 20 vehicles. GoogleMap
Parish History
Environment
At the east suburb of Tokyo metropolis, Ichikawa City is located crossing the Edo River, a branch to the Tone River. The city is a beautiful town where the river reflects the row of cherry blossoms in spring and old distinguished temples remains of ancient village. Ichikawa Church is dedicated to Our Lady of Rosary.
History
In 1945 many Catholic Churches in Tokyo had been destroyed by the war fire of World War II. For the mission work toward the people who felt entirely lost by the war, Archbishop Peter Tatsuo Doi was encouraged to invest some private money by the support of the people of Honjo Church and Ichikawa Church including some who were originaly from Hirado in Kyushu to establish Ichikawa Catholic Church to be the base of evangelization. Fr. Joachim Tadao Hirata had been assigned as the first chaplain and continued his pastoral work for 14 years. Meanwhile present land have been purchased. In 1949 the church was moved to the present site of Yawata from Kitakata in Ichikawa City. After that Koiwa Church and Funabashi Church (At present Narashino Church) have been separated from Ichikawa Church and became an independent parish. As the second chaplain Fr. John Makoto Shibata had served for 16 years from 1960, as the third chaplain Fr.John Kinmei Tsukamoto had served for 16 years from 1976. The forth chaplain Fr. Francisco Xavier Zengo Yoshida had served for 10 years since 1991. Due to his overwork he got sick in Dec. 2000 and had pas away in Feb. 2001. The whole community members of the church felt deeply sorry for his sudden death. The fifth chaplain, Fr. Martial Kazuyoshi Aoyama had served for two years from 2002 to April., 2003. From April 2003 Fr. Bernard Takeshi Ohara had arrived as pastor.
Present Situation
60 years has passed from the end of the World War II and Catholic Ichikawa Church has walked the way along the same period of time. Under the big influence after the War the Church has proceeded on the steady steps of the community. The new Christian members has increases gradually and the Church community have started up various activities. From 2003 Tokyo Archdiocese has set out the new policies which were reorganization of the parishes and enforcement of priority programs: formation of lay people, support for foreign workers, cares for mental diseases. Along these policies Catholic Ichikawa Church has organized Keiyou Mission Cooperative Community together with Koiwa Church, Shiomi Church and Kasai Church as neighboring churches. Thus the Church has started to work for various subjects and common agenda such as evangelization and pastoral care. We would like to invite you all in spring or autumn season to our Church and to attend the Holy Mass, to enjoy the seasonal flowers along the Mama River walking around the scenic spots like the Junsai Pond, Kaizuka Shell Mound, the Satomi Park and the Yagiri Ferry. ( written by Mr. Yasuhara of Ichikawa Church)