Parishes

Chibadera Catholic Church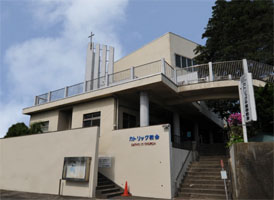 Name
Chibadera Catholic Church
Dedicated to
St. Columban
Date of Establishment
December, 1956
Parish Priest
Paul Kazumoto Fukushima 
Associate Parish Priest
John Mary Michael  Tadashi Furuichi
Number of Parishioners
643 (as of Dec.31,2019)
Sunday Mass
11 am (Japanese)
4th Sun. 11 am (International Mass in English & Japanese )
1st, 2nd, 3rd & 5th Sun. 2 pm (English)
English Mass at 2 pm is not be held on the 4th Sun.
4th Sun. 5 pm (Spanish)
Weekday Mass
Tue. – Thu. & Sat. 10 am
1st Fri.  10 am
1st Fri. : The Exposure of the Blessed Host 9 am – 10 am, Mass 10 am
Sunday School
Sun. 10 am – 10:50 am (After that attend the Mass at 11 am)
For kindergarten children to high school students.
Volunteer Activity
Visiting patients in hospitals and at homes. according to the circumstances
Financial support for Uganda. according to the circumstances
Sending clothes, blankets, etc to the poor people in Sanya. twice a year.
Collecting used stamps and telephone cards. according to the circumstances
Mass service at the sanatorium. once a month
Address
70 Chibadera-cho, Chuo-ku, Chiba-shi, Chiba 260-0844  Google Map
Telephone
043-261-2920
Fax
043-268-4825
Website
http://www.chibaderacatholic.jp/
http://mobile.chibaderacatholic.jp/ (mobile)
Facilities for the Handicapped
Toilet
Directions
20 minutes walk from JR Honchiba Station.
20 minutes walk from Chibadera Station on Keisei Chihara Line.
Take the Kominato Bus No.5 (bound for Daiganji) from JR Chiba Station and get off at Kyokai-shita stop. This bus stops is right beneath the Church. Or take the Chiba Chuo Bus (bus No.2) from Chiba Station via Chibadera and get off at Katsuragi stop or Nishichibadera stop. The church is about 3 minutes walk from the stop.
Around 1.8km from Matsugaoka interchange of Keiyo Highway. Parking lot available for total of 20 vehicles.
Community
The present situation
Chibadera Catholic Church was founded in 1956 at the present site. Since then St. Columban Missionary has been carried on this church. It located on the hill from the south- east direction of Chiba Station near Senyoji Temple which named this place Chibadera , and Chiba Senior Public High School and Aobanomori Koen were closely located.
About 500 people in 300 households live mainly in the south-east area of Chiba City as the church members. Aside from it more than 100 people used to attend English Sunday afternoon Mass. There are two Sunday Masses at 11 am in Japanese and 2 pm in English for those who want to pray quietly, to pray together with many people, to pray & sing in English or Tagalog fervently. On the 4th Sunday there is an International Mass both in English and Japanese and then no afternoon English mass. Sisters of the Company of Mary Our Lady have supported Catechism
classes though their convent and Our Lady St. Mary kindergarten are located far from the church. Children of the Sunday School celebrate a gala day of three, five and seven years of age and play Christmas skit together with children from the Saturday School at the kindergarten. The church community manages Tsuga Assembly Hall together with Nishichiba Church and Sunday Mass is offered on the 1st and the 3rd Sunday at 13:30 and then the word of liturgy is celebrated on the 2nd and the 4th Sunday at 13:30. Please visit our church when you come to Chiba City.
Parish History
History
The Columban Missionary founded this parish. In 1955 the Columban Foreign Mission Society obtained 990sqm at Chibadera in Chiba city for the church site. In 1956 the reinforced concrete two-floor rectory was completed and so was the half underground church (it's now a hall) on December of the same year. At that time only few families moved from Nishichiba church and people near by attended the Sunday mass. Later on the church hall in a barrack house with plywood wall and zinc roof was built , which was a removing of U.S.A. Kisaragi Base Camp and it made a creaking noise when people walked on the floor.
With the hard work of the first chaplain Fr. Harry O'donnel, his successor Fr. John Flynn and Mr. Ishizuka Catechist, Elementary & High school boys and girls who attend catechism class and English class increased mainly and then adults who sought the faith in Christ gradually joined also. In the decade of 1950 the lands of Chiba city and Ichihara city were turned into a big industrial districts and this brought a big increase of population as well as the numbers of faithful from outside.
The record in 1964 marked 302 people as the total number of Chibadera Church.
The present church building had completed in 1967 and the consecration ceremony had held in November of the same year. The convent and kindergarten of Sisters of the Company of Mary Our Lady also had been constructed in the same parish in 1967 at the present site.
At present nearly 700 people belong to this church. In 2000 both Fr. Tim and Fr.Murphy moved to Fujisawa Church and then Fr. Joseph Broderick was newly arrived. Recently about 100 foreigners, mainly Philippine people have joined to English Sunday Mass and they are very active in our church community. Aside of the inside activities, the church participate actively into some outside ecumenical programs like Chiba City Christmas, Chiba City Japanese Calligraphy Exhibition and Chiba Mission Regional Cooperative Activities. Then together with Nishichiba Church, Chibadera Church have supported Tsuga Assembly Hall for the pastoral care of the faithful who have assembled there.
Although there are many problems like church members are composed largely of elderly people, young people keep away form the church, globalization, relations with outside society, and deterioration of church facilities, the church always try to turn a look on the changes of outside and seek to form a new type of church community by further efforts continuously.
(Tokyo Archdiocese New No.182, May 2001)