Mikawashima Catholic Church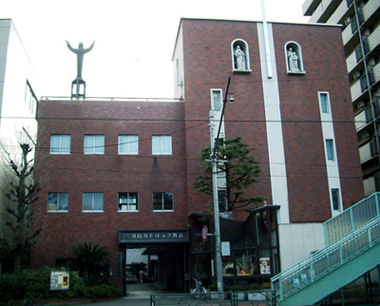 Name
Mikawashima Catholic Church
Dedicated to
St. John the Apostle
Date of Establishment
February, 1933
Pastor
Toyokatsu John Bosco NAMIKI S.D.B
Assistants
Chun Seob Michael  LEE S.D.B., Dominicus Kuniaru Matsunaga S.D.B.
Number of Parishioners
660 (as of Dec.31,2017)
Sunday Mass
7:00 / 9:30 / 19:00(All in Japanese) From 2008, 9:30 am Mass will be change to 10:00am.
Weekday Mass
6:30 / 7:00 1st Fri.6:30 / 7:00 / 10:00(All in Japanese)
Sunday School
"Children's Group" Sun. 10:00-12:00 (For Elementary, Middle and High School Children)
Bible Study
"Catechism" 1st & 4th Sunday after 10:00 Mass for Catholics by Fr. DI PRINZIO Every Wednesday 16:00 for Korean Catholics & Catechumens (Interpreter available) by Fr. NISHIMOTO The class for Catholics & Catechumens on Friday 18:00 by Fr. NISHIMOTO has been suspended as of now. "Bible Studay" Friday, except 1st Friday, :11:00 1st Friday, Lecture on Bible after 10:00 Mass by Fr. NISHIMOTO.
Volunteer Activity
Aid for children in the Philippines through sales of coffee shop Sending old postal stamps & telephone cards to "Tokyo Caritas No Ie", the Diocesan Welfare Center Activities of the Young People's Association: Visiting Christmas Village Activities of the Welfare Committee: Sending cards of get-well wishes and encouragement to the sick / aged parishioners
Activity
Please see the home page below in Japanese
Address
3-11-1 Arakawa, Arakawa-ku, Tokyo116-0002
Telephone
03-3891-3033
Fax
03-3807-2337
Website
http://www.catholic-mikawashima.join-us.jp/
Facilities for the Handicapped
Slope (or Barrier free), Elevator, Toilet
Directions
8 minutes walk from Mikawashima Sta. on JR Joban Line. 15 minutes walk from Machiya Sta. on Keisei Line. ・15 minutes walk from Minowa Sta. on Hibiya Subway Line. Take Tokyo City Bus No.63 or No.64 (route; East Gate of Ikebukuro Sta.˜Asakusa Kotobuki-cho), and get off at Arakawa Kuyakusho-mae stop. Or take Tokyo City Bus No.22(route; Nippori Sta.˜Kameido Sta.), and get off at Toden Kuyakusho-mae stop. The church stands right in front of both stops. Parking available for 10 vehicles. GoogleMap
Parish History
In 1925 the Salesian missionary had arrived in Japan and they had started their mission work at Oita prefecture and Miyazaki prefecture. In 1933, Archbishop Jean-Baptiste-Alexis Chambon had invited the Salesian priests to work in the district of Mikawashima, the down town of Tokyo. At that time there is no Catholic Church around the area and near to Mikawashima there were Asakusa Church, Honjo Church and Hongo Church. There was only one Catholic activity group by the students of Sophia university at Machiya and Jesuit priests were working with them. In the town of Mikawashima there were many small factories and small houses with many children. These environment was just suited to the Salesians' educational Mission work for boys and girls. Archbishop J.B.A. Chambon had provided the land and offered to them so that they could build the Church and start their mission work as they wished according the spirit of Salesian Society. The first programs for the children were Sunday school and Sunday worship. Only after one year 300 children became to join the Sunday school. They also had established a day care nursery, supplementary private class, abacus class for learning calculation and medical clinic one after the other for the needs of the people in the area. These social works had developed and given many good fruits to the people in the area. Especially the Sunday school became popular among the children who called it Don Bosco, the name of the founder of Salesian Society, and going to Don Bosco meant everything about the Sunday School. On 29th of June in 1939, Mikawashima Church had become a Parish owned by Salesians Fathers. In 1941 the World War II had broken out and then the activities of the Church had been restricted severely. Many social facilities had been burnt out by air raids and the Church community had to live under the very difficult times. But after the war the Church had restored her active life again with the remarkable relief activities of the Salesian missionaries that time. They worked with the Salesian Sisters' and the Caritas Sisters of Miyazaki's cooperation by visiting homes, holding family gathering and bible study class. They had built new orphanage home and dormitory for the children who lost the parents and home. People of the Church community also gave their necessary things out of their poverty to help the further unfortunate people in the shortage of goods. The people devotedly cooperated to Brother Zeno Zebrowski and Miss Satoko Kitahara who had started to build " Ants' Town" for homeless people and joined them with collecting used paper, magazines & corrugated cardboards, bottles, cans and other waste articles. The Don Bosco Nursely which had been confronted once by shutting down due to the financial reason has been restored again. In the Mikawashima area many children and boys has joined the members of Boy Scout and also Girls Scout which has still few groups during the time has been started. Mikawashima Church has Don Bosco Nursely, Don Bosco Center for bringing up children, Boy Scout Arakawa 12 Party, Girl Scout Tokyo 108 Party and Church school for children. Thus many activities and facilities have offered for children and boys & girls. people of this area call the Church Don Bosco friendly. The Church has commonalty and family atmosphere which has been fostered by the spirituality of Salesian Fathers who love children. ( Tokyo Archdiocese News Vol/ 111, March, 1993 )